A photo of newlyweds and their wedding guests has been popular on social media for several months. In the background, two men are holding a Ukrainian flag. In the article we explain that the photo is a photomontage and was actually taken in Russia.
Newlyweds from Ukraine perform the Nazi salute.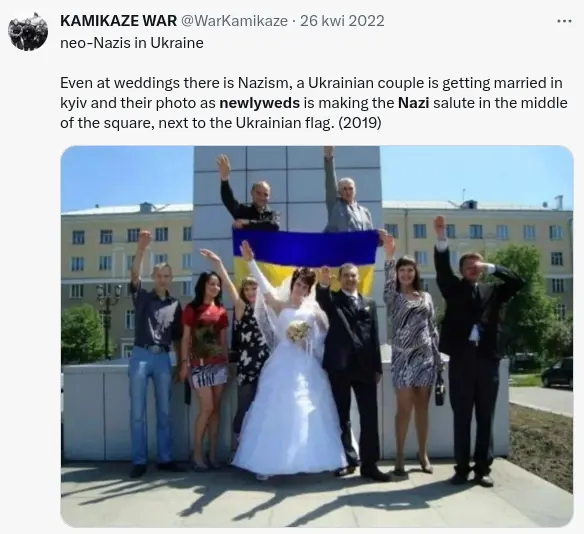 Newlyweds from Russia
Recently, the edited photo of an alleged Ukrainian couple was shared on Twitter by Tomasz Sommer, the editor-in-chief of the "Najwyższy CZAS!" weekly. Reverse image search on TinEye indicates that the oldest instance of the image online is from 2016. The sieg-heiling group is holding a flag with clearly visible black and yellow colours, instead of Ukrainian blue and yellow. The link to the photo leads to the now defunct portal poxe.ru, however, this particular page has been saved in the Wayback Machine archive.

In the comment under Sommer's tweet, the real location of the place where the photo was taken was provided by @Gajus_Marcius. He pointed to Lenin Street in the Russian city of Novokuznetsk, more than 4,300 km from Kyiv. The photo shows the plinth of the Lenin monument standing opposite the building of the Administration of the Novokuznetsky District.

The Flag of the Russian Empire
The flag that the men in the picture are holding is the flag of the Russian Empire. It was introduced by Tsar Alexander II in 1858 and remained in use until 1883. Black colour symbolized stability of the state, yellow referred to spirituality, and white signified eternity and purity.
Summary
The photo of the newlyweds performing Nazi salute was taken in Russia, so it most likely depicts a group of citizens of this country. A photo montage circulating on the web, in which the flag of the Russian Empire has been edited into the flag of Ukraine, is yet another example of crude anti-Ukrainian propaganda.
Sources
flags-world.com: Flaga Imperium Rosyjskiego