On 25 August, Zbigniew Stonoga published an edited video from the Vistulan Boulevards on his Facebook and Twitter accounts, showing two situations. In the first part, young men shout the Ukrainian national salute — Slava Ukraini (Glory to Ukraine). Then, in the second part, we see a fight. Stonoga, followed by many Internet users, described the video as a scene of Polish youth being beaten by Ukrainians for allegedly refusing to repeat the Ukrainian phrase. The police and the prosecutor's office officially denied this version of events. According to the authorities, the attackers in the second part of the film are Georgian citizens, and there are no Ukrainians among the people identified.
Ukrainians staged a mass beating of Poles in Warsaw for refusing to shout "Glory to Ukraine"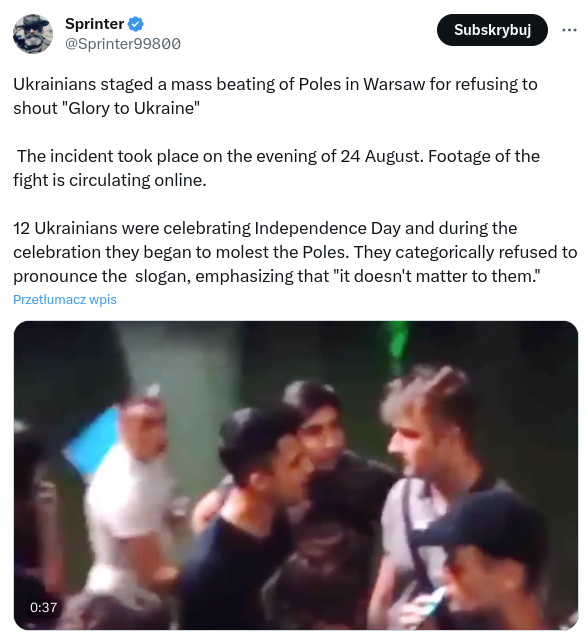 Beating on the Vistulan Boulevards
The false narrative about the attackers having Ukrainian citizenship was repeated, among others, by Grzegorz Braun, Lega Artis bloggers, or Witold Gadowski. On 26 August, the Warsaw Police Headquarters published a statement regarding the incident on the Vistulan Boulevards on the night of 24/25 August. According to it, there were no Ukrainian citizens among the 13 people identified, and the aggressors visible in the video were Georgians. Full information about the command is provided below.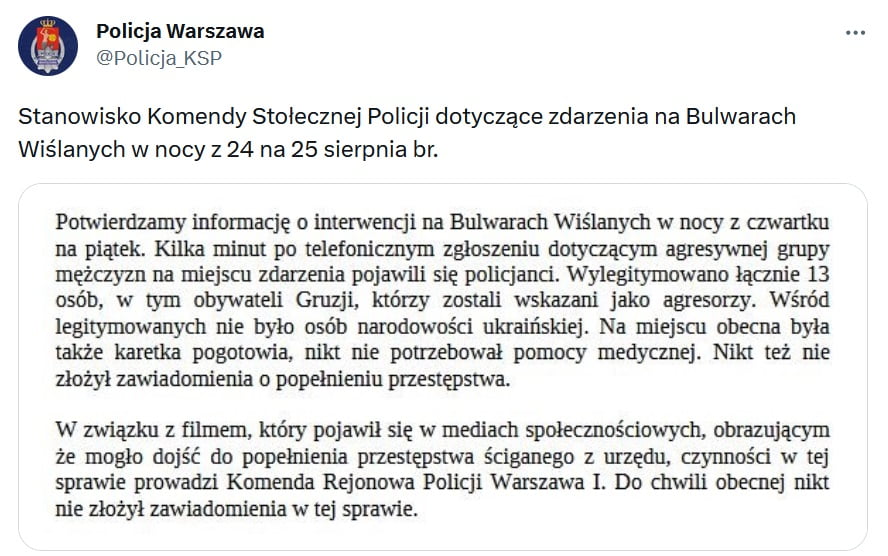 Google Auto-Translation;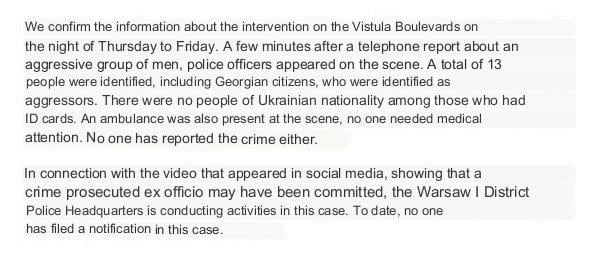 In an interview for TVN Warszawa portal, Szymon Banna, spokesman for the District Prosecutor's Office in Warsaw, informed that at least two Polish citizens were assaulted. The spokesman also confirmed that the violent men in the video in question were citizens of the Republic of Georgia.
Summary
According to the official statements of the Polish authorities, the aggressors on the Vistulan Boulevards were not Ukrainian citizens, but Georgians. The video shared on social media is edited and actually shows two situations with different participants. Recently, a large number of anti-immigrant narratives built around manipulated images can be seen in the Polish information space. This disinformation is being used to influence the public mood in Poland. Therefore, it is worth bearing this in mind when using social media and refrain from re-sharing similar posts if you are not sure about their authenticity.
Sources
Warsaw Police Headquarters: Stanowisko Komendy Stołecznej Policji
TVN Warszawa: Śledztwo prokuratury po zdarzeniu na Bulwarach Wiślanych