From time to time, a graphic depicting a Waffen SS officer and the current Chancellor of Germany, Olaf Scholz, circulates on social media. The meme suggests that Fritz Scholz, the Nazi in the photo, is the grandfather of the current head of the German government. In this article we explain that this is a coincidence of surnames.
Chancellor Scholz's grandfather was a Waffen SS officer.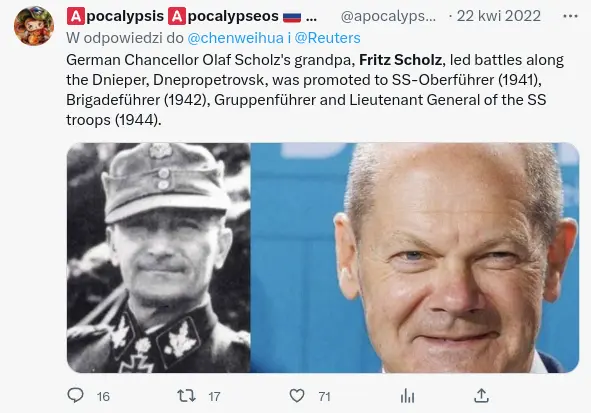 Russian disinformation
The original disinformation about Chancellor Scholz's grandfather serving in the Waffen SS was shared on 5 March, 2022 by Yevgeny Prigozhin on his vKontakte profile. The post was quickly deleted, but a copy of it survived. Prigozhin is a Russian oligarch, a close associate of Vladimir Putin and the founder of the Wagner Group, a private military company fighting in Ukraine.
The post read:
It turns out that the grandfather of German Chancellor Olaf Scholz was an SS lieutenant general and was personally involved in the execution of Jews in Poland and today's Ukraine.
The disinformation spread very quickly on the Russian Internet. On 12 April, 2022, Putin's associate referred to his fake post, responding to an inquiry from German journalists. Prigozhin wrote that information about the alleged Nazi past of Scholz's grandfather was provided to him by investigative journalists from the Patriot media company, which he owns. As he explained, his insinuations were retaliation for Scholz's denial that the pro-Russian population was murdered in the Donbas region. Despite deleting the original post, he did not back down from these accusations, arguing:
If Mr. Scholz or anyone else has any objections to this information, they can file a lawsuit and we will determine what is true and what is not. But from what I can see, most of you native Germans had grandparents or great-grandparents involved in murdering Russians, genocide Jews, who faithfully served Adolf Hitler in one way or another.
The Russian disinformation also spread to Polish social media, including Facebook.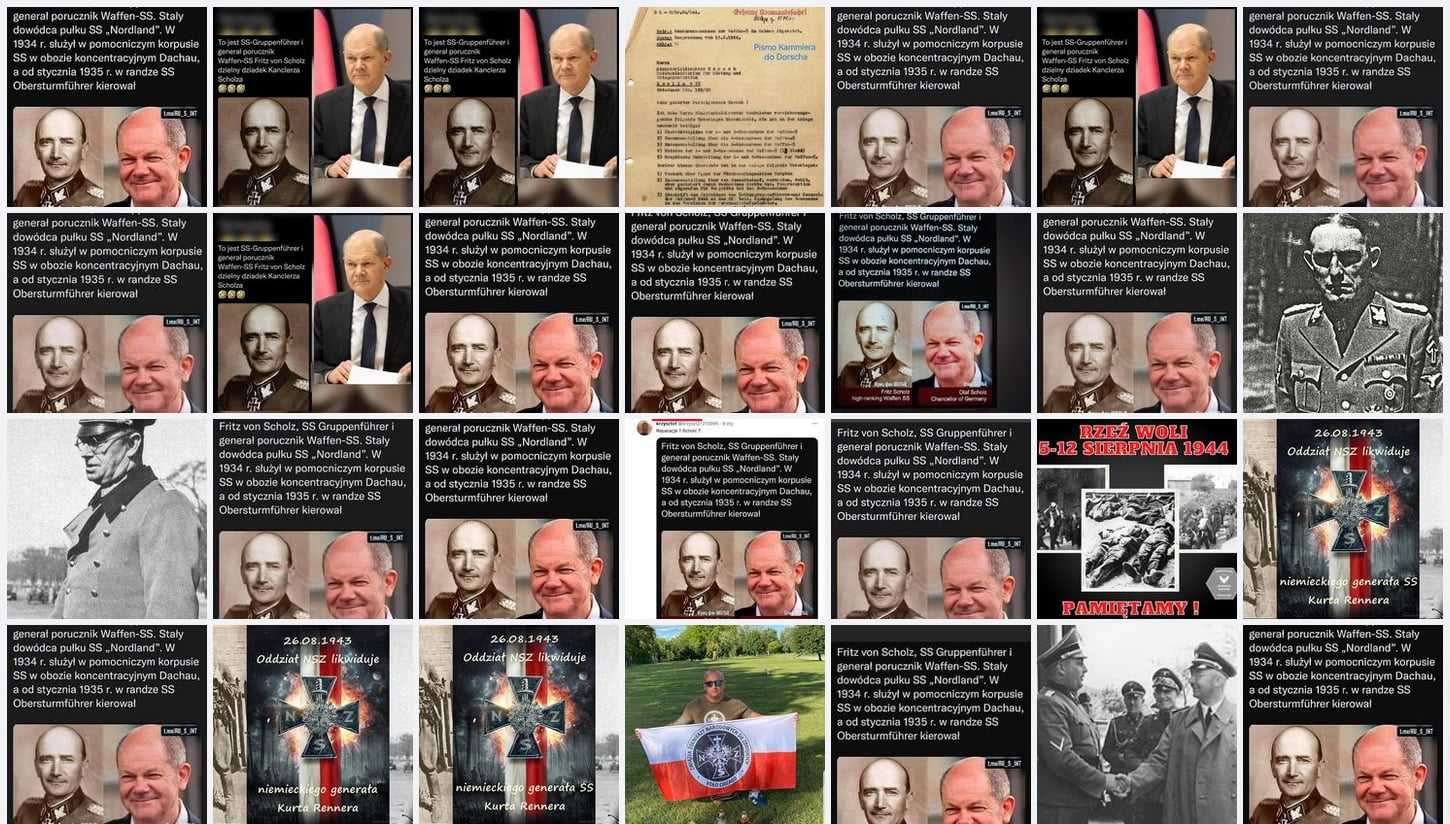 Who was Fritz von Scholz?
According to Wehrmacht Lexicon, Fritz von Scholz was a soldier already during World War I, during which he obtained the rank of lieutenant. During World War II, Fritz's unit fought, among others, in Leningrad. On 27 July, 1944 near Narva, Fritz was severely wounded in the head by a shrapnel. A day later he died of his wounds. Journalists of the German agency DPA obtained documents from the Federal Archives, according to which Waffen SS Lieutenant Fritz von Scholz died childless.
The grandparents of Chancellor Olaf Scholz, on the other hand, came from Hamburg and were railway officials. According to Deutsche Welle, the surname "Scholz" is held by about 30,000 people in Germany, which is why coincidence of names is not uncommon.
Summary
The misinformation about Chancellor Olaf Scholz's grandfather being a Waffen SS officer comes directly from the founder of the Wagner Group and associate of Vladimir Putin, Yevgeny Prigozhin. According to German archives, Waffen SS Lieutenant Fritz von Scholz died childless. On the other hand, the grandparents of the German Chancellor were railway officials, with no history in the army of the Third Reich. Prigozhin's insinuation was therefore based entirely on a coincidence of names.