For several days, a video has been circulating on social media showing a black man attacking a white woman with a knife. It takes place on a street in the middle of a city. Many accounts quickly picked up on the topic, insinuating that the attack was racist and that the stabber was an immigrant. The crime was associated, among others, with the conspiracy theory of The Great Replacement.
A black immigrant attacked a white woman in London on racist grounds.
The film gained a significant popularity on social media, especially in English. For example, it was published on the X portal (formerly Twitter), where it has been watched by over 1.5 million viewers. The recording also found its way to the Polish information space. The vast majority of posts were accompanied by a comment suggesting that the stabber behind the attack on the white woman was an immigrant. This was supposed to show the threat posed by people from outside Europe.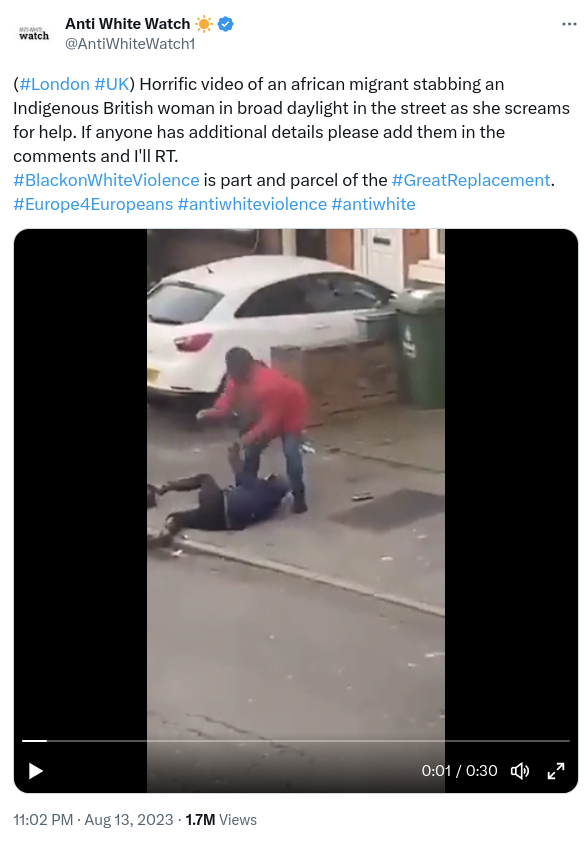 The narrative was also spread by Dariusz Matecki, a councilman of the city of Szczecin and a politician of Solidarna Polska.
Was the stabber really an immigrant?
In fact, the event took place in April 2022. The attacker was the victim's husband, who decided to take revenge on his ex-partner. His motive was alleged betrayal and the fact that his wife had left him a month earlier. The man was waiting for the woman to leave for work at a local school. He then tried to persuade her to come back, and when she refused, he attacked her with a kitchen knife. He struck her 10 times and then sat on a nearby wall where he was found by police officers.
Hugh and Maureen Wedderburn married in 1981. The woman survived the assault and, despite the dramatic appearance of the attack, did not require surgery. The 67-year-old attacker was sentenced to 21 years in prison. Contrary to the claims of some netizens, the situation took place in Walsall near Birmingham, not in London. It had nothing to do with the colour of either person's skin either.
Summary
Once again, we urge you to exercise caution with regard to recordings circulating on social media. Very often their real context is unknown, and many Internet users try to add their own to push their view of the world. This misleads the recipients and may distort the social perception of reality.
Sources:
Express and Star: https://www.expressandstar.com/news/crime/2022/10/22/first-photo-of-controlling-husband-who-tried-to-kill-wife-as-she-walked-to-work-at-school/ oraz https://www.expressandstar.com/news/local-hubs/walsall/2022/10/27/controlling-husband-jailed-for-21-years-over-attempted-murder-of-wife-in-walsall/