In the view of President Andrzej Duda's activity related to the support of Ukraine in the war with Russia, false information is circulating on the Internet again. It suggests that he is related to Mykhailo Duda – alias "Hromenko", Ukrainian member of the UPA. In this article we explain this Russian propaganda's lie.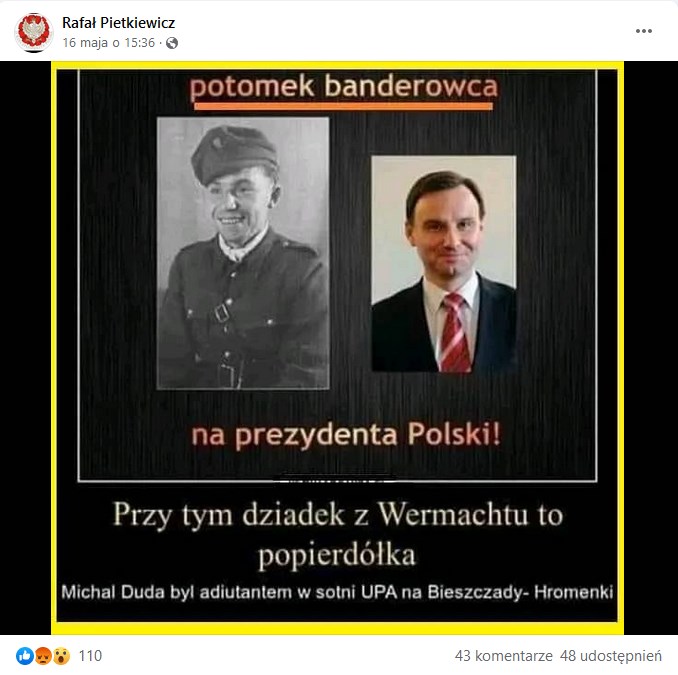 Mykhailo Duda, alias "Hromenko", is a relative of President Andrzej Duda.
Hromenko and anti-Ukrainian propaganda
Disinformation about the family relationship between Andrzej Duda and Mykhailo Duda started in the period of the political campaign in 2015. Its author was the late Włodzimierz Kuliński, Polish immigrant living in Sweden, the founder of the right-wing portal Wirtualna Polonia.
Mykhailo Duda, alias "Hromenko", was the Ukrainian Insurgent Army (UPA) military commander. He is responsible for the attack on the village of Borownica in April 1945, when approximately 60 inhabitants were murdered.
False information about the relationship between "Hromenka" and Andrzej Duda appears in the form of tweets, posts on Facebook, websites and chains sent via communicators and e-mails. This lie was posted by Vladimir Solovyov, the Kremlin's main propagandist, on his Telegram. Fake news was also published by TSN – the private Ukrainian television.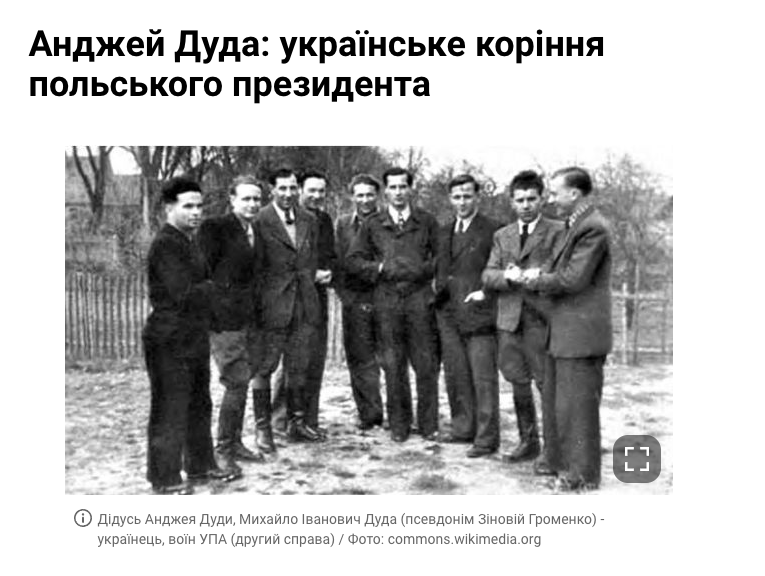 Hromenko's origin vs. family tree of Andrzej Duda
Mykhailo Duda, son of Ivan, was born in the village of Soroky-Lwowski or Murowane in Lviv Oblast on November 21, 1921. He died on May 31, 1950, twenty-two years before Andrzej Duda was born. He was childless, thus, naturally he could not be the ancestor of Polish president.
As we can read on the Histmag.org portal, the first known ancestor of Andrzej Duda on his father's side is Jan Duda – president's great-great-grandfather, born around 1810 in Silesia. He moved to Łąck, near Stary Sącz in the Lesser Poland Voivodeship. This is where the family on the male side of Andrzej Duda comes from. His great-grandfather, Franciszek Duda, born in 1832, was the father of Alojzy Duda, the grandfather of the current president of Poland. Thus, no known ancestor of Andrzej Duda on his father's side came from Ukraine.
Andrzej Duda referred to this circulating false information himself yet in 2015.

Summary
Mykhailo Duda has nothing in common with the family of President Andrzej Duda. The similarity of their names is purely coincidental, nevertheless this fact has been used in Russian propaganda for years, consequently fueling anti-Ukrainian sentiments in Poland.
According to the Ukrainian Genealogical Association, there are currently 4.5 thousand people in Ukraine who have the surname Duda. On the following map, the density of this name's occurrence in specific oblasts is marked by a dark color. Most of them occurs in the areas adjacent to the Polish border and in the Kiev region.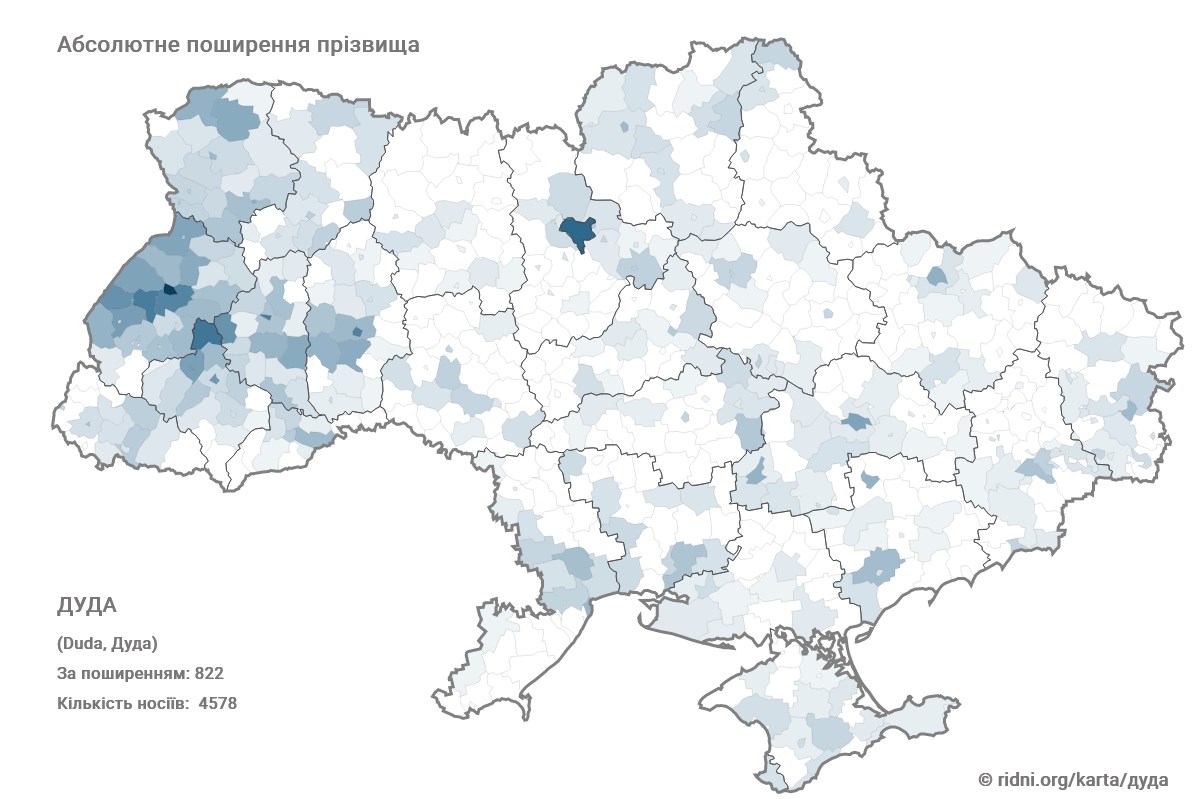 Sources:
horyzont-podkarpacki.pl: http://web.archive.org/web/20150402090606/http://www.horyzont-podkarpacki.pl/index.php/wydarzeniaprzemyski/1287-1
Ukrpohliad.org: http://ukrpohliad.org/blogs/do-100-richchya-vid-narodzhennya-sotennogo-upa-myhajla-dudy-gromenka.html
Histmag.org: https://histmag.org/andrzej-duda-korzenie-12349