George Soros and his death have already become a meme on social media. Every now and then breaking news emerge that the billionaire has died. This news is particularly eagerly passed on by conspiracy theorists. They often treat him as a personal enemy, which is why his death would be a positive event for them. However, the stubborn businessman, despite his advanced age, is still alive. 
George Soros died on 14 May, 2023.
Where did the information about the George Soros death come from?
Probably, the news of the death of George Soros was first reported by the Politics For All Ireland (@PoliticsFAIRL) account on Twitter. The original tweet has now been deleted, but there is a screenshot of it. At the time of publication, the account had only 3 followers. Currently, it is followed by more than 1,000 people. It mainly shares anti-immigration content, false information related to the pandemic, and humorous posts. It seems that this is simply a trolling account, and the publication of news about the death of Soros was aimed at gaining popularity.
The information was then shared by a much larger @CilComLFC account, which has over 20,000 followers. The person running the profile claims to be a teenager from Ireland who suffered serious complications after receiving the COVID-19 vaccine. This caused him to "wake up" and stop trusting the media and governments. From that moment on, he began to publish conspiracy theories or create transphobic content online. His post about the death of Soros went viral and reached more than a million people, flooding the Internet space with false information.
The fake news was then re-shared by other accounts, including those with great popularity. Of course, it found its way to the Polish Internet space. It also appeared on the World Bulletin portal, as well as on Instagram. At this point, entries on this topic have millions of views and are still gaining popularity.
George Soros is alive
However, information about the death of the 92-year-old Soros should be considered false. It hasn't been confirmed by any official source. On top of that, Soros himself informed on his Twitter account that he is still alive and in good health. In an interview with Reuters, a spokesman for the billionaire also denied the rumours.

News of the death of the businessman has been appearing regularly since 2013. We wrote more about this in one of our previous articles published in November 2022. At that time, false information about the death of Soros also flooded social media.
Musk lashes out at Soros
Elon Musk publicly criticized George Soros on Twitter shortly after news of his death began circulating on social media. Thanks to this, the information about the death of the American-Hungarian billionaire got an additional boost of popularity. The Soros name was already trending on Twitter at that time.
It is not clear why the critical words were published by Elon Musk. The fact is that Soros Fund Management, the company responsible for managing the wealth of the American-Hungarian billionaire, shortly before had sold all its shares in Musk's electric car corporation — Tesla, Inc.
The Twitter owner compared Soros to Magneto, an anti-hero, formerly a villain from the Marvel Comics universe. One user responded that indeed both the fictional character and the Hungarian billionaire had actually survived the Holocaust. He also added that both have good intentions, and Soros himself is attacked only because many people do not share his political views. In his response, Musk stated that George Soros hates humanity, never had good intentions, and wants to erode the very fabric of civilization. These words largely coincide with numerous conspiracy theories about the American-Hungarian billionaire that have been circulating for years. For the most part, they are based on deep-rooted antisemitism.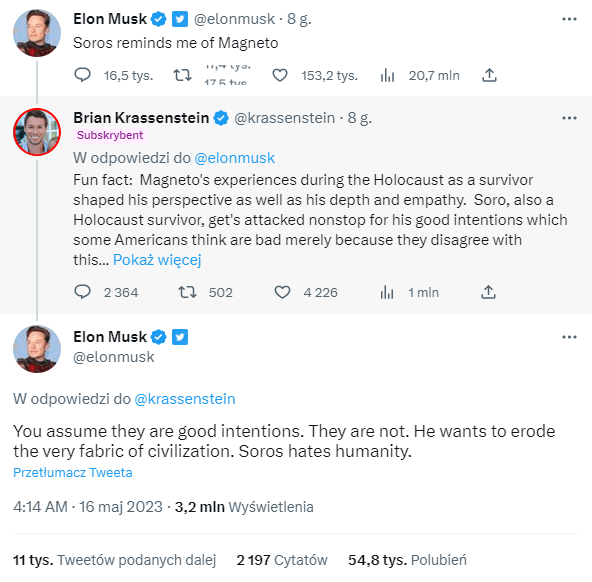 Summary
Rumours of George Soros' death regularly appear on social media. As one of the main enemies of conspiracy theorists, the billionaire is particularly vulnerable to all kinds of false information about himself. The fact that he is already in an advanced age further fuels these narratives. For now, however, the businessman is still alive and enjoys good health.
Sources
Reuters: https://www.reuters.com/article/factcheck-conspiracy-funds/fact-check-george-soros-alive-and-healthy-on-may-15-2023-idUSL1N37C1RK
Sportskeeda.com: https://www.sportskeeda.com/pop-culture/fact-check-is-george-soros-dead-viral-tweet-article-claim-explored
One India: https://www.oneindia.com/fact-check/fact-check-has-george-soros-died-at-the-age-of-92-3560262.html
Observer: https://observer.com/2023/05/george-soros-sell-tesla-stock/
Forbes: https://www.forbes.com/sites/siladityaray/2023/05/16/musk-fans-conspiracies-about-george-soros-after-billionaires-fund-dumps-all-tesla-stock/?sh=5c9fe9881251