For several days, information has been circulating on social media about the alleged death of George Soros. In addition, it is often accompanied by his alleged quote, as well as photos. They are supposed to be proof of his cooperation with the Third Reich. As it turns out, false news about the death of the Hungarian billionaire appears regularly, and attempts to link him to the Nazis are nothing new.
George Soros died on 22 or 23 November, 2022.
News of the alleged death of George Soros began to appear on 22 November. Most likely, it was initially shared by @ANTIWOKE on Twitter. The tweet received over 15 thousand likes. This fake news made it to the Anelogism.com website. It has also appeared on Polish Twitter, for instance here or here. It has also been shared on Facebook, both in Polish and in English.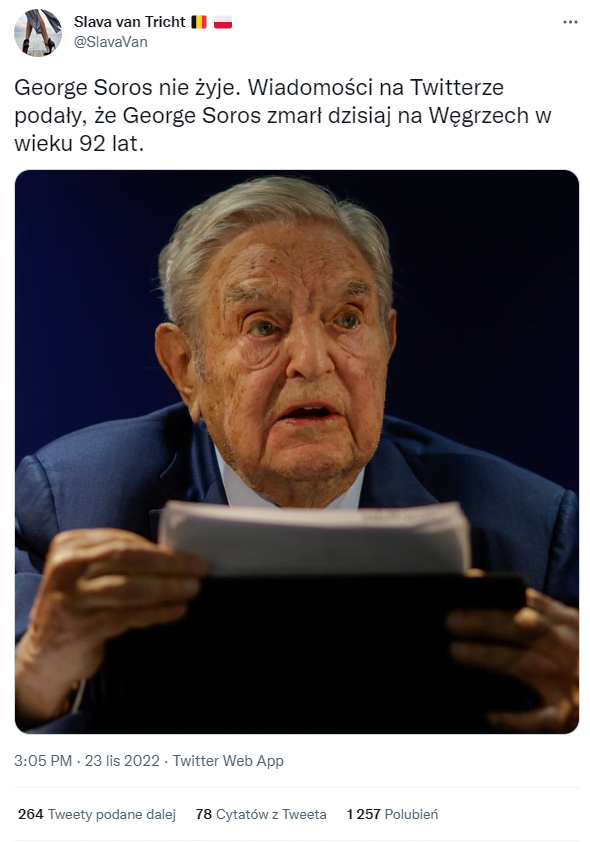 Yet, we could not find any official information about the death of the Hungarian billionaire anywhere. Numerous portals such as HITC or News in France denied this fake news immediately after its emergence. Some of the social media accounts responsible for promoting this information denied it after some time. However, these corrections did not gain even a similar reach to the original posts.
Where did the fake news come from?
Information about the death of George Soros appears every few years. Some social media users claimed that the currently circulating fake news was reported by Reuters. This is not true. However, in 2013 this news agency did give hasty news about the death of the Hungarian billionaire. It was a simple mistake, but it gave rise to a never-ending pipeline of false information about Soros' death, which has since appeared regularly on the Internet. One such example is this post from 2016.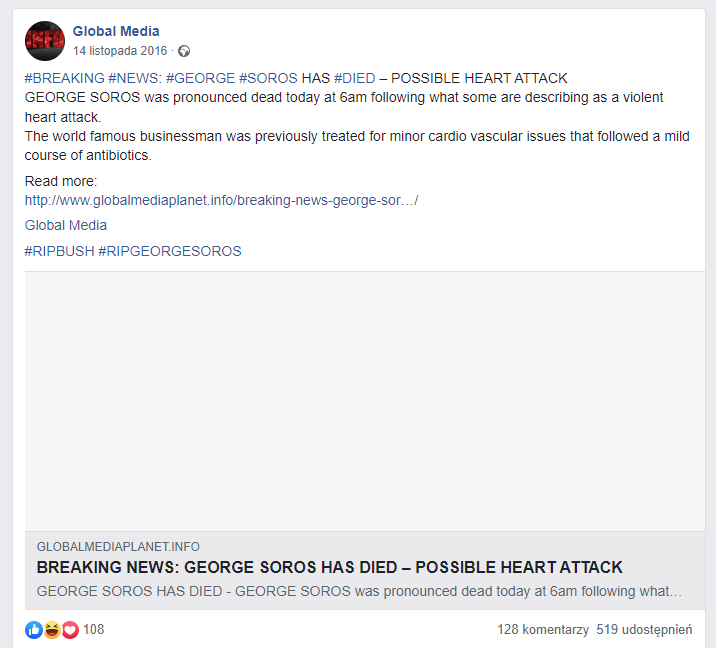 Alleged anti-Semitic statements by Soros
George Soros is also associated with various anti-Semitic statements. He is accused of helping the Third Reich in persecuting Jews. The Hungarian billionaire is portrayed by conspiracy circles as one of the main enemies of humanity, responsible for sinister actions. This is one of the main reasons why there is so much fake news about him, linking him to various regimes and authoritarian ideologies, among other things.
George Soros was to help the Nazis confiscate Jewish property. He allegedly commented: "If I hadn't been there, someone else would have done it anyway. I didn't feel guilty."
Among the posts spreading the information about the alleged death of Soros was the one shared on Twitter. In addition to fake news about the death of the billionaire, its author also shared his false quote. This is not the first time that Soros has been accused of collaborating with the Third Reich. At the beginning of November, a post circulated on Instagram that promoted this narrative. This information has been circulating for years and has been repeatedly denied by numerous news agencies, including Snopes, Reuters and USA Today.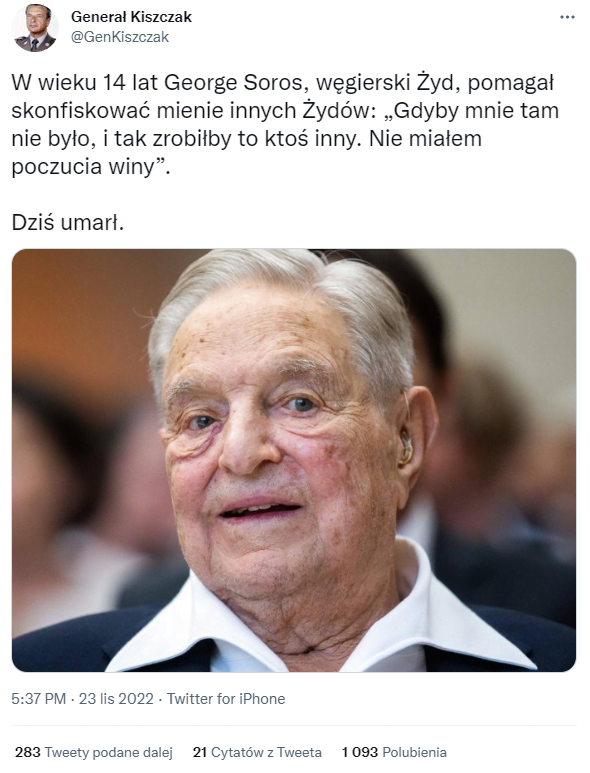 Soros helped confiscate Jewish property?
George Soros was only 13 when the Third Reich began its occupation of Hungary in March 1944. To avoid persecution and death, the Soros family used falsified documents to hide their Jewish origins. His parents decided that George would be safer staying with his pretend godfather, a Hungarian official named Baumbach. He dealt with the inventory of confiscated Jewish property, in which he was once assisted by George. Young Soros also served for two days as an errand boy in the Judenrat (a Jewish council under German control). His task was to deliver documents that called on Jews to appear before German officials. However, following his father's advice, when handing them over, he informed the recipients that when they appeared at the appointment, they would be deported. This helped save several Jewish families, as deported people were sent to extermination camps. After a few weeks of living in Baumbach's house, the family decided that George would be safer at his mother's place in Budapest. The entire Soros family survived the war.
Contrary to the narratives created on social media, George Soros was not involved in the confiscation of Jewish property. Only once, as part of hiding his identity, was he at the place of inventory of such property. As a child, however, he did not have any decision-making power, and the property did not bring him any benefits. Like many other Jewish families, the Soros did everything they could to survive. Sometimes it involved having to make difficult choices. The quote is a manipulated excerpt of his statement on the confiscations of Jewish property:
I was only a spectator when the property was being taken away. So… I had no role in taking the [Jewish] property away. So, I had no sense of guilt.
 Soros as a member of the Waffen-SS?
In addition to accusing the billionaire of collaborating with Nazi Germany, some narratives explicitly state that Soros was a member of the SS. This is another way to create additional resentment towards him. This is part of the trend of building an ominous aura around the billionaire, which we have already mentioned above.
George Soros was a member of the SS.
The alleged proof of SS membership is to be a photo shared on social media. It shows a young man in a Waffen-SS uniform with the caption that it is George Soros. The photo can be found e.g. on Twitter or Facebook with English description. In recent days, it has been re-introduced on Polish social media by @STANISA00912728. Nevertheless, the photograph was circulating i.a. on Facebook in Poland already in 2016.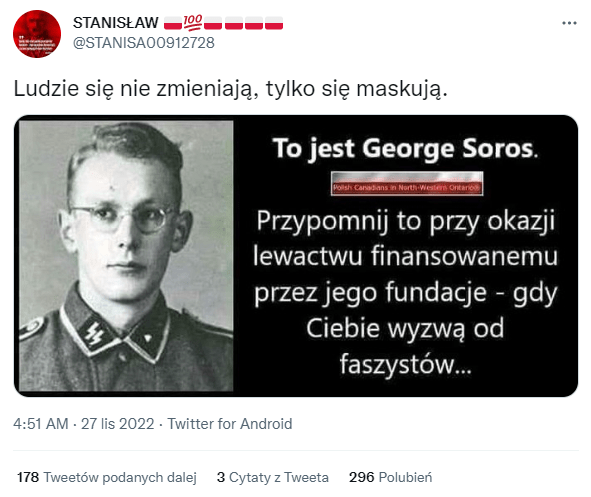 The man in the photo is not George Soros
In fact, as we have already mentioned, George Soros was still a teenager during the Second World War. When this conflict ended in Europe, he was only 15 years old. Therefore, he could not be a member of the SS, because the minimum required age was 17. It is true that after suffering heavy losses on the Eastern Front in 1941-1942, the Waffen-SS significantly loosened the criteria, when it comes to the "Aryanism" of its members. Candidates of "non-Germanic" origin were also eagerly accepted. However, the presence of a person of Jewish origin in its ranks was rather unimaginable.
A reverse image search quickly showed that the photo in question did not depict the Hungarian billionaire at all. In fact, the man in the photo is Oskar Groening, a former Waffen-SS member, who from 1942 served in the German Nazi concentration and extermination camp Auschwitz-Birkenau. Due to his function, he was known as the "accountant of Auschwitz". He was responsible for managing the inventory of stolen Jewish property and money. In 2015, at the age of 94, he was found guilty of complicity in the murder of at least 300,000 Jews and sentenced to four years in prison. He died in 2018, before he began serving his sentence.
Summary
George Soros is still alive. Many people are often fooled by false information about the death of a billionaire due to his age (he is currently 92 years old). In recent days, there have been no official statements confirming Soros' death. Narratives about his alleged cooperation with the Nazis, as well as accusations regarding his membership in the NSDAP or SS, are not supported by facts. The Hungarian billionaire is particularly disliked by conspiracy circles because of his activities. Therefore, numerous fake narratives are created about him. For this reason, any shocking information about George Soros should be treated with a great deal of distrust, and before passing it on, one should verify and confirm it.
Sources
Snopes: https://www.snopes.com/fact-check/george-soros-ss-nazi-germany/
USA Today: https://eu.usatoday.com/story/news/factcheck/2022/11/21/fact-check-false-claim-george-soros-collaborated-nazis/8306094001/
Reuters: https://www.reuters.com/article/uk-factcheck-false-george-soros-claims-idUSKBN23P2XJ
HITC: https://www.hitc.com/en-gb/2022/11/23/george-soros-isnt-dead-in-2022-as-fake-obituaries-resurface/
News in France: https://newsinfrance.com/has-george-soros-died/
Wielka Historia: https://wielkahistoria.pl/waffen-ss-w-liczbach-milion-europejczykow-w-sluzbie-hitlerowi/
The Washington Post: https://www.washingtonpost.com/news/morning-mix/wp/2015/04/21/the-moral-guilt-of-oskar-groening-the-accountant-of-auschwitz/
BBC: https://www.bbc.com/news/world-europe-33533264
The Guardian: https://www.theguardian.com/world/2018/mar/12/bookkeeper-auschwitz-dies-before-jail-nazis