On 4 December, the AFP news agency announced on its official Twitter account that the morality police in Iran had been abolished. It was based on a statement made by Iran's Attorney General, Jafar Montazeri, to local media. This sensational news was shared by the media around the world. It was published e.g. by New York Times, Newsweek, Deutsche Welle or Onet. Unfortunately, this news is based exclusively on an ambiguous statement by the Attorney General of Iran, and the reaction of the media seems premature and misleading to the public.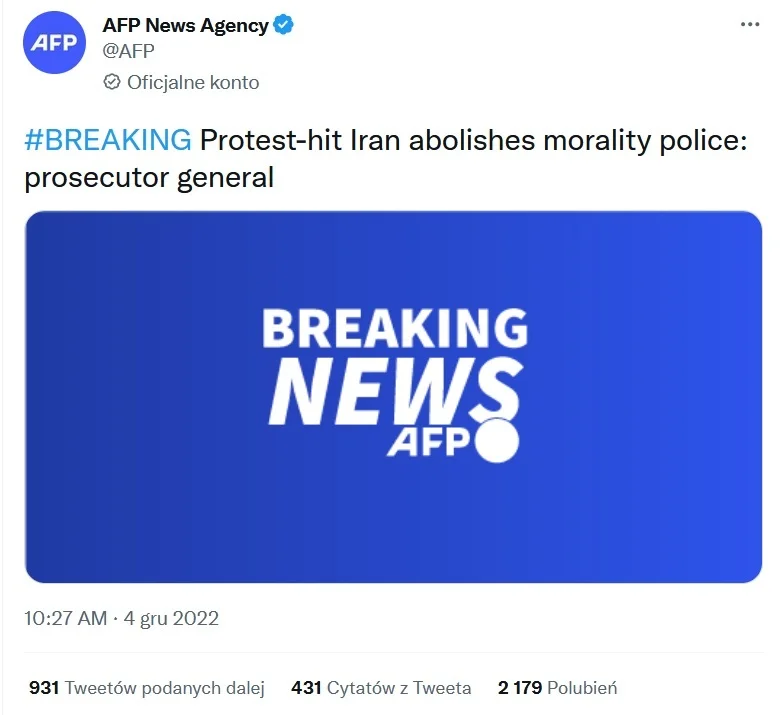 Iran has abolished the morality police.
What did Montazeri say?
According to Iranian news agency Ensafnews, Attorney General Jafar Montazeri said that Gasht-e-Ershad, or the so-called morality police, "has nothing to do with the judiciary and has been abolished in the same place where it was established in the past."
On the basis of this sentence, quoted by the Iranian media, global news companies created the news of the day that Iran dissolved the morality police. Unfortunately, Montazeri is not a decision-maker in this matter, his statement is unclear, and the information itself was denied on the same day:
No official authority in the Islamic Republic of Iran has confirmed the closure of the morality police.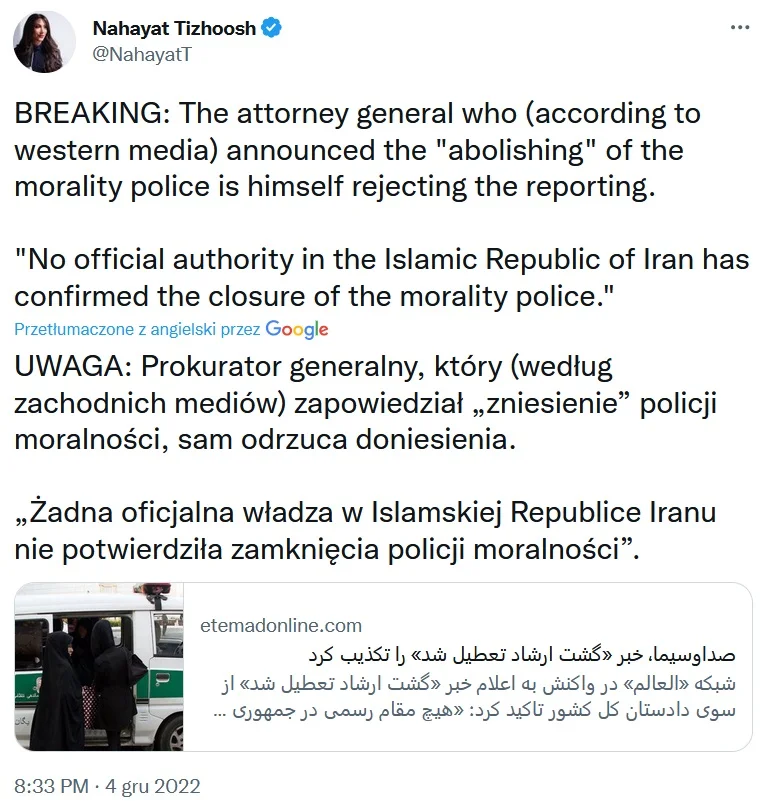 Alex Vatanka, Senior Lecturer and Director of the Program for Iran at the Middle East Institute, suggested that it is possible that the Iranian authorities released such ambiguous news to see how the protesters will react.
Summary
The protests following the death of Mahsa Amini have been going on for 80 days. According to statistics kept by the Iranian human rights organization HRANA, 471 people were killed and 18,215 protesters were arrested. Global media should be more diligent about such a sensitive issue as the concessions of the Iranian regime, otherwise they may be used as a tool in Iranian disinformation propaganda. Official sources in Iran denied the information that the morality police has been abolished.
Source
CNBC: https://www.cnbc.com/2022/12/05/iran-denies-abolition-of-morality-police-as-three-day-strike-begins.html
Foreign Policy: https://foreignpolicy.com/2022/12/05/iran-morality-police-protests/
Ensaf News: http://www.ensafnews.com/384539/%D8%AF%D8%A7%D8%AF%D8%B3%D8%AA%D8%A7%D9%86-%DA%A9%D9%84-%DA%A9%D8%B4%D9%88%D8%B1-%DA%AF%D8%B4%D8%AA-%D8%A7%D8%B1%D8%B4%D8%A7%D8%AF-%D8%AA%D8%B9%D8%B7%DB%8C%D9%84-%D8%B4%D8%AF/
Etamad Online: https://www.etemadonline.com/%D8%A8%D8%AE%D8%B4-%D8%B3%DB%8C%D8%A7%D8%B3%DB%8C-9/585762-%DA%AF%D8%B4%D8%AA-%D8%A7%D8%B1%D8%B4%D8%A7%D8%AF-%D8%AA%D8%B9%D8%B7%DB%8C%D9%84%DB%8C-%D8%AF%D8%A7%D8%AF%D8%B3%D8%AA%D8%A7%D9%86-%DA%A9%D9%84-%DA%A9%D8%B4%D9%88%D8%B1-%D8%AA%DA%A9%D8%B0%DB%8C%D8%A8