On September 10, a photo of a poster appeared on social media informing about the alleged reward in Switzerland for informing on neighbours who heat their apartments above 19 degrees Celsius. The poster contains the logo of the Swiss government and a correct phone number to the Department of Energy. The text on the poster refers to the planned orders to maintain a lower temperature in apartments, saunas and swimming pools, however, the poster itself is a photomontage, and the information visible on it is false.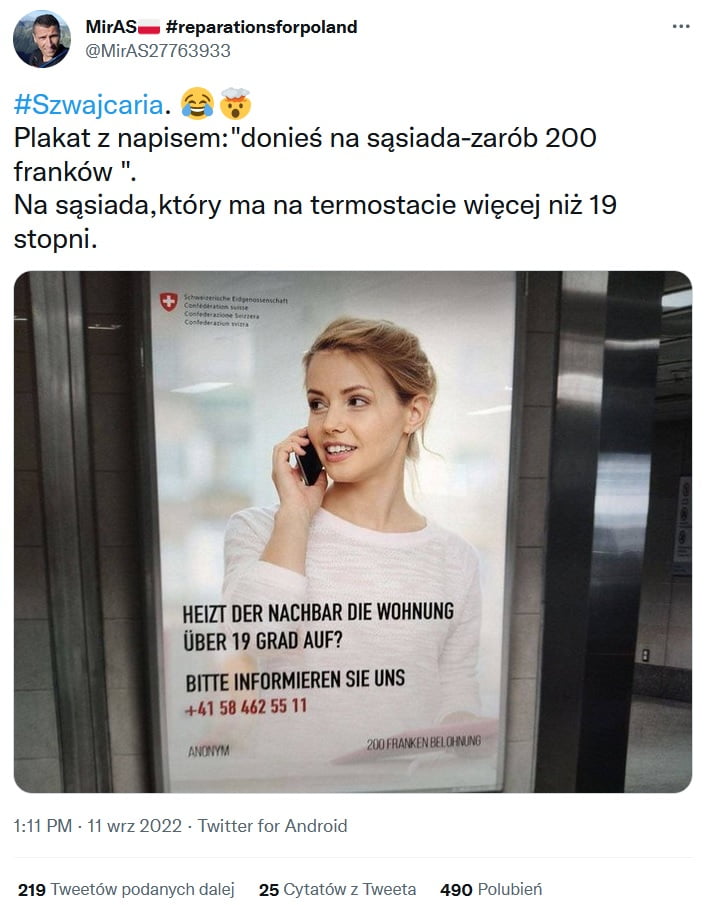 In Switzerland, they pay for anonymous reports of a neighbour heating a house above 19 degrees Celsius.
Photomontage of the poster
The background of the fake poster visible in the advertising box comes from etsy.com. On the side-by-side comparison of the photomontage visible below (left) with the original (right), light reflections on the frame and a fragment of the wall visible in the background, which overlap, were marked. The photo of the woman talking on the phone was taken from a stock service.

The oldest post with the photomontage we have found was shared on Russian Telegram by the Старая площадь (RUS. Old Market Square) account, which has 123 thousand followers.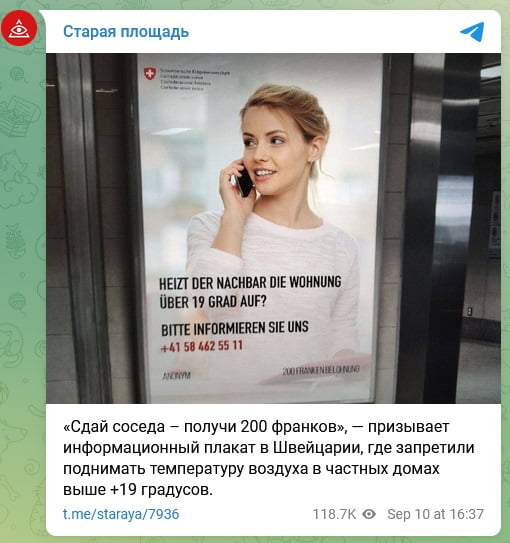 The fake poster also gained popularity on Polish accounts on Facebook, Twitter, as well as on Telegram. This fake information was also shared by Najwyższy Czas. It was also posted on the Demotywatory portal.
Penalties for maximum temperature
According to the local news service Blick, the Federal Council, i.e. the Swiss government, is considering introducing penalties for non-compliance with current calls for energy savings. This would be possible in the event of a gas shortage. Compliance with restrictions and prohibitions would be monitored by canton authorities. Blick quotes the Minister of Economy, Guy Parmelin, who said that "the police will not enter everyone's house – but there may be random checks".
Simone Hug, a communications specialist at the Department of Energy, commented on the false photomontage, denying that the federal government had anything to do with the appeal.
Summary
For several days, Kremlin propaganda has been trying to play the West in connection with the cut-off of Europe from Russian energy resources.Recently, Gasprom published a video, in which it announces an ice age for Western countries once the gas taps are turned off.
It is no different with the fabricated poster that appeared on the Russian Telegram. This false call to report neighbours who would violate a possible ban on heating apartments above 19 degrees is probably addressed to an internal Russian recipient. Its goal is to show that the West is not coping with Russian energy blackmail. Unfortunately, the Kremlin's demagogy is also eagerly exploited by anti-Western circles present in Poland.
 Sources
Blick: https://www.blick.ch/fr/news/suisse/si-les-economies-denergie-ne-suffisent-pas-si-le-gaz-vient-a-manquer-nous-ne-pourrons-nous-chauffer-qua-19-c-id17839954.html
20min: https://www.20min.ch/story/heizt-der-nachbar-informieren-sie-uns-gefaelschtes-petz-plakat-sorgt-fuer-verunsicherung-699395044150