On 10 May, Adrien Bocquet, a former soldier of the French army, who had returned from Ukraine a few days earlier, where he had provided humanitarian aid, gave an interview on Sud Radio. The video from the conversation, which is available on YouTube, has almost one million views. A part of this controversial interview is also available with Polish subtitles. When talking to a journalist, Adrien Bocquet accused Ukrainian army of war crimes he had allegedly witnessed in Bucha. We contacted Bocquet and, based on his statements, we assessed that it is unlikely that he could witness any abuse of Russian prisoners of war by Ukrainian soldiers.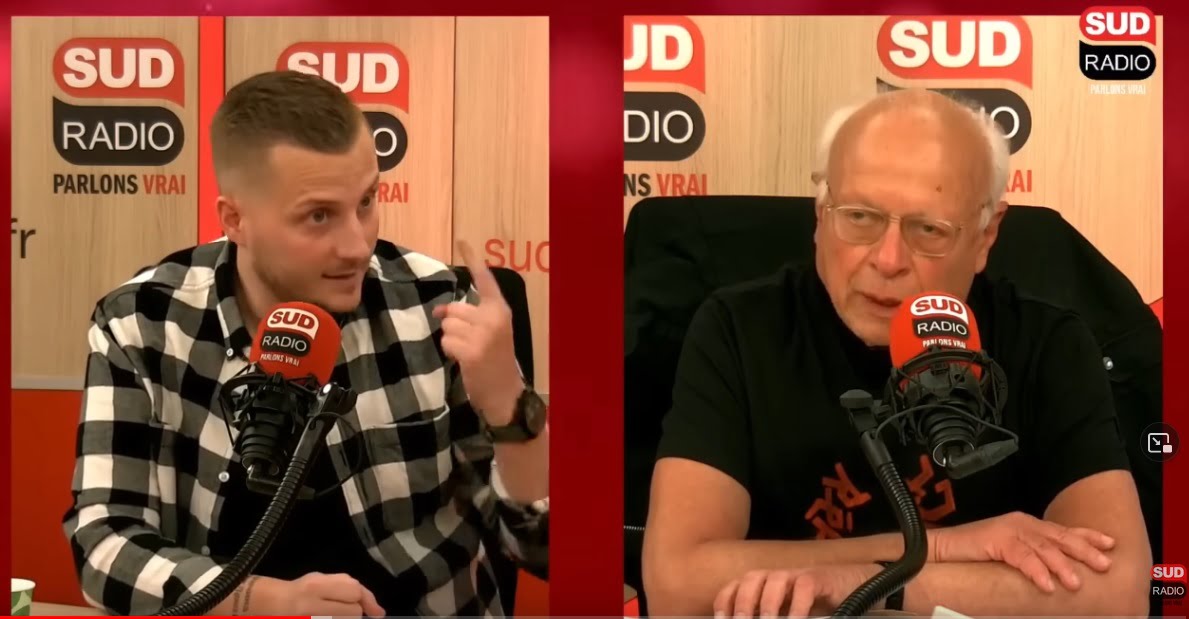 Help for the Lviv hospital
Adrien Bocquet sent us photos that documented his presence in Ukraine. Among others, there was a picture of him next to a bus belonging to the foundation managing the Andrey Sheptytsky Hospital in Lviv. StopFake.org portal contacted Andriy Login, the director of the centre, to get his comment on the visit of the Frenchman. Login confirmed that Adrien Bocquet visited the Foundation's office in Lviv twice, on 4 April during the day and on 6 April at midnight. During these two visits, the Frenchman brought shipments with humanitarian aid. Importantly, according to Andriy Login, it was difficult to talk to Bocquet and his companions because they only spoke French. Meanwhile, in the interview (2:35), Bocquet says that he understands Ukrainian and Russian, thanks to which he understood the soldiers of the Azov regiment when they said that "when they meet a black man or a Jew, they will kill them". He did not answer the question where he learned Ukrainian and Russian.

Alleged visit to Bucha
Bocquet claims (3:15) that he was in Bucha, where he witnessed the abuse of captured Russian soldiers. However, Bucha was recaptured as a result of the withdrawal of Russian troops on 31 March, as reported by the Mayor of Bucha, Anatoliy Fedoruk, on the City Council's Facebook profile. When we pointed this out, Bocquet stated that he was in Bucha in March (when it was still under Russian occupation), which clearly contradicts his narrative about Russian prisoners of war. Below is a fragment of our correspondence with a translation. Moreover, as we can read in the article on StopFake.org, the Embassy of Ukraine in France learned that Bocquet had crossed the Polish-Ukrainian border on 4 April. Therefore, the official data do not coincide with the information provided by the Frenchman.
Another information worth emphasising the location of Bucha, as reported by Bocquet: Nord-est Kiev, which means northeast of Kyiv, whereas in reality Bucha lies to the northwest of the capital of Ukraine.

Where is the footage documenting war crimes?
In an interview with Radio Sud, Bocquet says he has footage that documents the alleged war crimes committed by Ukrainian soldiers. Meanwhile, at 11:43, he mentions a ten-hour detention by Ukrainian soldiers, who searched his phone but could not find anything. At our request to send even one piece of evidence, Bocquet responded that he fears for his life due to death threats, which he receives in text messages. Screenshots of two examples of such threatening messages, along with our translation, can be found below.
Bocquet promised to provide us with recordings of alleged crimes immediately after filing a report to the French National Anti-Terrorism Prosecutor's Office, which investigates war crimes committed in Ukraine against French citizens. It was supposed to happen within a week. Obviously, as soon as we receive the recordings, we will update this article.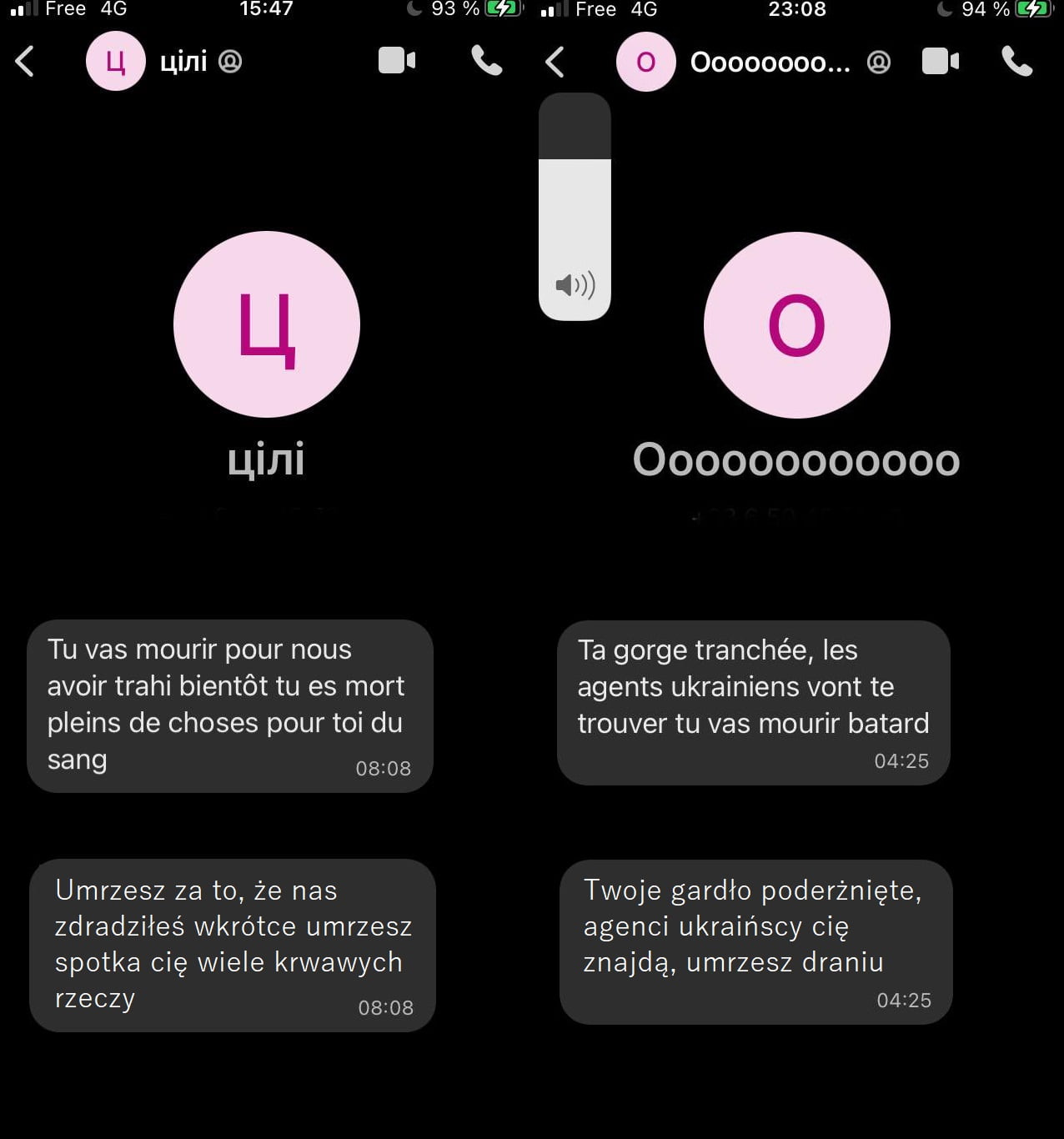 Summary
There are many contradictions in Adrien Bocquet's statement. The dates of his visit to Bucha do not coincide with the facts about the movement of Russian and Ukrainian troops in the city and the official data obtained by the Ukrainian embassy. On the one hand, he is afraid to make the recordings of alleged war crimes committed by Ukrainians against Russian prisoners of war publicly available, and on the other hand, he is not afraid to give public interviews, telling in detail about these alleged crimes. Based on the lack of evidence and numerous inconsistencies in the Frenchman's statements, it should be stated that Bocquet's accounts of alleged Ukrainian war crimes against Russian prisoners are not credible.
Sources
StopFake.org: https://www.stopfake.org/fr/comment-le-francais-adrien-bocquet-blanchit-les-crimes-russes-a-boutcha/