Grant Wahl, a popular sports journalist, died during a World Cup match in Qatar between Argentina and the Netherlands. Unfortunately, once again, the death of a famous person has been used to spread conspiracy theories. Immediately, numerous claims appeared on social media that the actual cause of death was the COVID-19 vaccine. Once again, they turn out to be false.
Grant Wahl died from receiving the COVID-19 vaccine.
Right after the first press reports about the sudden death of Grant Wahl, claims immediately began to appear on social media suggesting that the death was a result of taking the COVID-19 vaccine. An example is this post.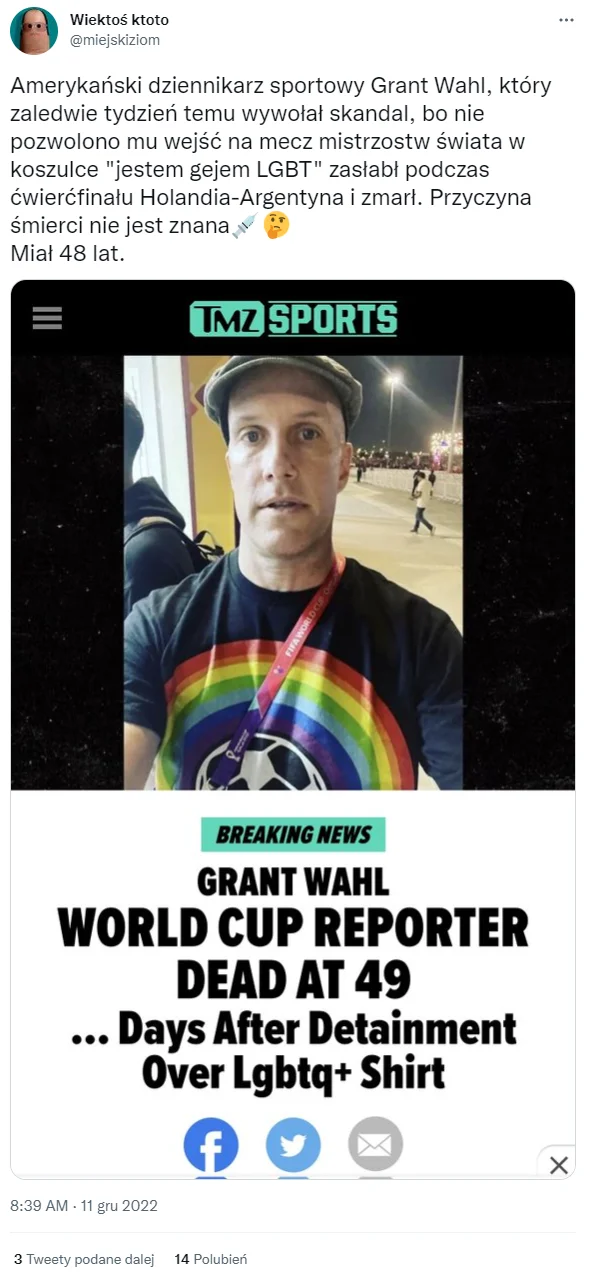 What is more, the discussed narratives were particularly visible in the comments under popular posts informing about the journalist's death. For instance, this post by the Sport.pl portal on Facebook. Despite the lack of any evidence, many commenters believe that Wahl's death was caused by the COVID-19 vaccine.

Circumstances of the incident
Grant Wahl collapsed in the press stand during extra time of the Argentina-Netherlands match on Friday, 9 December, 2022. As pointed out by the journalists who were on the spot at the time, help from the medical services came quickly. Unfortunately, there was no access to a defibrillator at the stadium, which was criticized by Tom Glancy, a witness to the incident and correspondent for The Times. Wahl was resuscitated for about 20 minutes and was then rushed to the hospital, where he was pronounced dead.
Was Grant Wahl vaccinated?
Grant Wahl openly informed about the fact that he received COVID-19 vaccinations. On his Twitter account, he announced that he had taken both the first and the second dose, as well as the booster. He also encouraged others to do the same. His wife, Céline Gounder, is a physician and infectious disease expert. She was a member of U.S. President Joe Biden's advisory team on COVID-19. Like her husband, she also advocated for vaccination.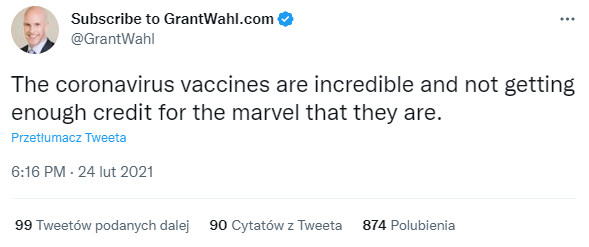 Wahl's illness
The basic fact that social media conspiracy accounts ignore is that the journalist was ill for the last days of his life. As he mentioned on his website on 6 December, 2022:
My body finally broke down on me. Three weeks of little sleep, high stress and lots of work can do that to you. What had been a cold over the last 10 days turned into something more severe on the night of the USA-Netherlands game, and I could feel my upper chest take on a new level of pressure and discomfort. I didn't have Covid (I test regularly here), but I went into the medical clinic at the main media center today, and they said I probably have bronchitis. They gave me a course of antibiotics and some heavy-duty cough syrup, and I'm already feeling a bit better just a few hours later. But still: No bueno.
Also, the day before his death, the journalist stated in his podcast that he did not feel any better and had to see a doctor again. He said he had frequent bouts of severe coughing.
Could the COVID-19 vaccination have contributed to the death?
As Wahl's wife pointed out, his autopsy showed that he died from a ruptured aortic aneurysm. Thus, there is no reason to link Wahl's death to vaccination. Social media accounts spreading disinformation narratives prey on the journalist's death to gain popularity and exposure. All such claims should be considered false.
It is also worth pointing out that Wahl informed about taking the booster in February this year, i.e. several months ago. Since then, there has been no indication that he suffered from the side effects of vaccinations.
Attributing responsibility for sudden deaths of various people to vaccines is nothing new. We have already described numerous such cases on FakeNews.pl. In particular, vaccinations tend to be blamed for myocardial infarctions. Those false claims were also largely related to the world of sport. At the end of 2021, Grzegorz Płaczek claimed that cases of heart attacks had increased drastically among athletes. As we have shown in our analysis, this was not true, and the data used to spread these narratives were manipulated. Also in the case of Danish footballer Christian Eriksen, who had a heart attack during a football match, there were attempts to link it to COVID-19 vaccinations. Even though the player was not vaccinated at that point.
Grant Wahl's activism
Grant Wahl gained particular popularity when he tried to enter the stadium in Ar-Rayyan wearing a rainbow-coloured T-shirt to show his support for the LGBT+ community. This took place during the USA-Wales game. In Qatar, a conservative Islamic country, this was met with opposition, and the journalist was detained, albeit only for 25 minutes. FIFA has issued an official apology for the incident.
The whole situation was used to support a hypothesis that Wahl did not die of natural cause. Somebody was to kill the journalist in revenge for his activism. This theory is also being spread on social media along with a video of Eric Wahl, Grant's brother who himself is gay. He states that in his opinion, the journalist did not die of natural causes, but was murdered.
However, just two days after his brother's death, Eric posted on Twitter that he didn't know anything for certain. He also confirmed that he recorded the video circulating on social media while still being in shock. He said he was waiting for the final results of the autopsy and believed in American doctors to provide answers to the questions the family of the deceased was asking. State Department spokesman Ned Price said there was no indication of third-party involvement at the time the body was brought back to the U.S. The autopsy already confirmed that the cause of death was ruptured aortic aneurysm, which means any hypothesis of an unnatural death of Grant Wahl should be ruled out.
Summary
Grant Wahl died unexpectedly at the age of just 49. However, there is no indication that his death had anything to do with COVID-19 vaccinations. The journalist had been ill for days and complained of severe cough and other ailments. The autopsy conclusively showed that death occurred as a result of a ruptured aortic aneurysm. Anti-vaccine circles, however, frequently use high-profile deaths, especially of famous people, to spread their disinformation rhetoric.